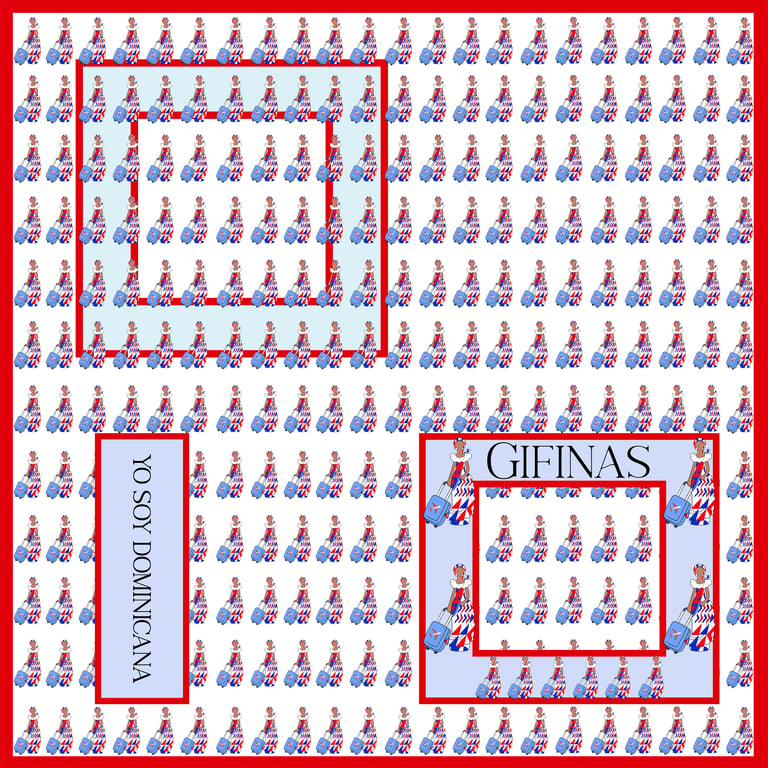 This Dominican Faceless doll scarf, proudly represents all of us who feel Dominican
On this occasion the faceless doll carries a suitcase, inside this suitcase there are dreams, memories and a lot of joy. The " Dominican woman", travels the world with an abundance of joy and enthusiasm that leaves no one indifferent. She is also a feisty, hard-working and a very intelligent woman. You are the woman we wanted to capture in this piece.
This scarf has the colors of the Dominican flag with a pretty and powerful statement: I am Dominican, yo soy dominicana.
Upgrade your personal Style with "Gifinas prints".
Scarves are made of semi-silk. Our Gifinas´scarves collection is ideal for a night out, outdoor adventures, a party or family travel. It adds a touch of spring color for any season, occasion or to your everyday style. Our scarves are genuine, magnetic, soft and multi-use. These products are 100% made in Spain.
Material:semi-silk
Texture: Silky Sheen, Smooth, artfully Crafted.
Dimension: 70x70cms and 120x120cms
IMPORTANT!
¡¡WE PRINT ON DEMAND ONLY!!
Please, read RETURNS & EXCHANGES POLICY before making a purchase.
It will take 15 days minimum for the manufacture of this scarf. Gifinas is a sustainable brand and our products need their production time.
If you live outside of Spain and you are interested in purchasing our scarves,
please send us an email to: [email protected]