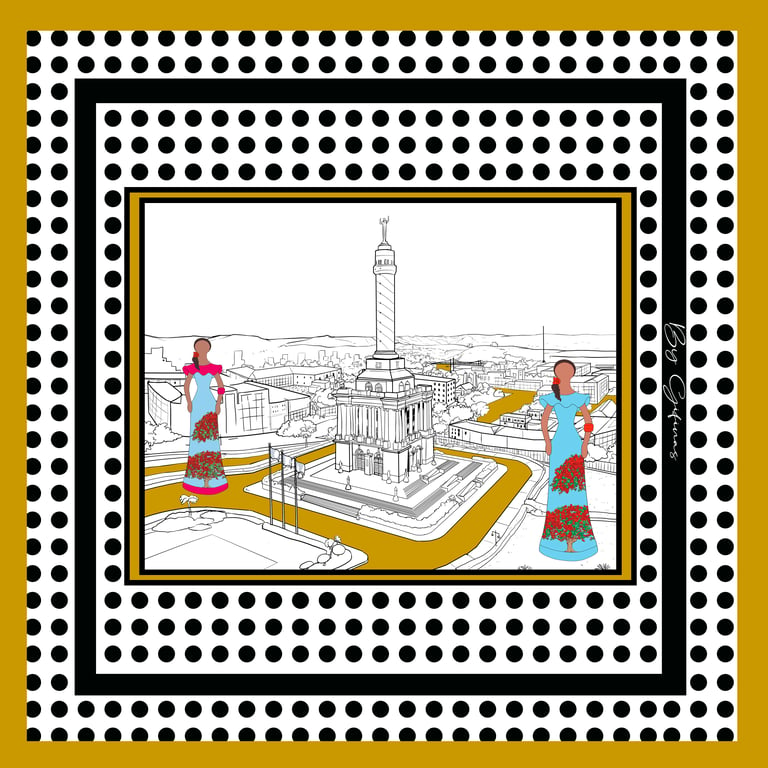 Santiago Scarf!
Introducing our exquisitely designed scarf featuring the iconic Santiago Monument. This remarkable piece showcases a unique representation of the monument, transformed into a stunning pop art masterpiece with a playful twist of black polka dots against a vibrant backdrop. The fusion of the monument's grandeur with the whimsy of pop art creates a captivating visual narrative that celebrates the heart of Santiago's cultural vibrancy.
But that's not all – this scarf goes beyond the monument itself. Adorning the fabric are the graceful faceless dolls, a true emblem of the rich craftsmanship and cultural diversity that defines the soul of the Dominican Republic. These dolls, with their intricate designs and vibrant colors, symbolize the nation's history, heritage, and the amalgamation of cultures that have shaped its identity. By incorporating these dolls onto the scarf, we pay homage to the captivating narratives woven into the fabric of the Dominican culture, allowing you to carry a piece of its captivating story wherever you go.
In wearing this scarf, you don't just drape yourself in art – you wrap yourself in the essence of Santiago, the creativity of pop art, and the cultural tapestry of the Dominican Republic. It's a statement, a celebration, and a connection to a world of artistic beauty and diverse traditions.
Our Gifinas´scarves collection is ideal for a night out, outdoor adventures, a party or family travel. It adds a touch of spring color for any season, occasion or to your everyday style. Our scarves are genuine, magnetic, soft and multi-use. All our products are 100% made in Spain.
Material of this scarf: semi-silk
Texture: Silky Sheen, Smooth, artfully Crafted.
Dimensions: 70x70 cms and 90x90cms
IMPORTANT!
¡¡WE PRINT ON DEMAND ONLY!!
Please, read RETURNS & EXCHANGES POLICY before making a purchase.
It will take 15 days minimum for the manufacture of this scarf. Gifinas is a sustainable brand and our products need their production time.
If you live outside of Spain and you are interested in purchasing our scarves,
please send us an email to: [email protected]