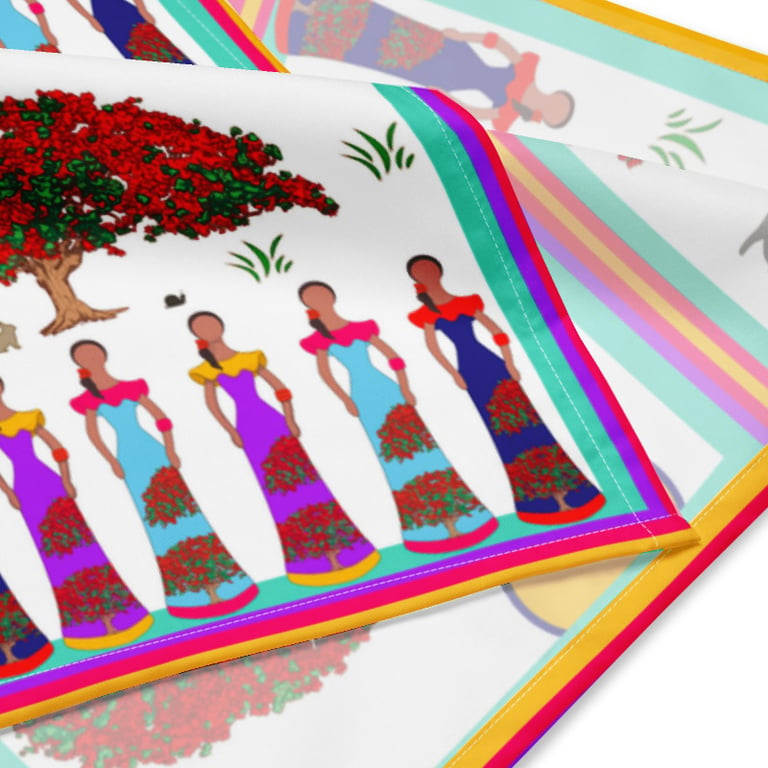 Flamboyan and "Muñecas Sin Rostro"
In this new scarf, we have been inspired by this beautiful Flamboyan or Framboyan tree, to dress our dolls and to create a beautiful scarf for you.
¡Upgrade your personal Style with Gifinas prints!
The Flamboyan, also known as the Flame Tree, is one of the most popular tropical trees. Its parasol crown and its incredibly beautiful flowers make it a highly desired plant by all, whether we have a garden or not.
In the tropics you can find it in streets, parks, avenues, … in short, everywhere.
Flamboyan or Framboyan? It depends on where you are right now. Flamboyan is the most popular word in towns of the Dominican Republic, Venezuela, the Canary Islands, Cuba, Puerto Rico and Mexico (southeast region). Framboyan is more common in certain cities in Mexico and Cuba.
But what all art lovers can agree on; It is that the tree is an icon of the arts of Latin America. The Flamboyán, like the self-portrait, if you are an artist and your origins are in Latin America and the Caribbean, surely at some point you will be overshadowed and seduced by inspiring your art in this beautiful tree, which we have adopted as part of the identity of our streets. or landscapes.
It is as if his manifest presence came to sing a song of joy. And even more so if you enjoy the spectacle of seeing a flamboyant tree in bloom during the two or three hours before sunset.
They are the Flamboyán trees in bloom, something that nature gives us selflessly, and that we are accustomed to at this time of year.
It is a natural spectacle that attracts all kinds of public, that awakens the muse in poets, and that inspires words of praise to those who delight in its mere contemplation.
If we talk about the flamboyant in the Dominican Republic, the place of origin of our muses, the Faceless Dolls, in most of the national territory you can find the flowering flamboyant, one of the most colorful trees in the world with its red flowers. orange and bright green foliage.
The months of June, July and August have days of intense sun, and it is precisely in the summer season when most people go out to enjoy themselves in parks and squares, so the sympathy that these trees arouse is guaranteed.
The flamboyant tree is found in parks, patios and green areas of residences, along streets, avenues and highways, and on farms. A popular avenue in La Vega, José Horacio Álvarez, bears the popular name of Avenida de los Flamboyanes, because it is adorned on one side and the other by those beautiful trees, originally from the African island of Madagascar.
In the Capital you just have to go around the Mirador Sur Park, the Botanical Garden, but also in green areas, or move towards the East region, towards the Cibao or the South region. In each of these places, the flamboyant tree is present, now with the incomparable richness of its flowery roof. In Santiago it is common to contemplate the neighborhood roads with their flowering flamboyant trees with all their majesty.
!!!! For purchases outside of Spain, please send us an email or a message!!
Scarves are made of semi-silk and silk 100% silk . Our Gifinas´scarves collection is ideal for a night out, outdoor adventures, a party or family travel. It adds a touch of spring color for any season, occasion or to your everyday style. Our scarves are genuine, magnetic, soft and multi-use. All our products are 100% made in Spain.
Material of this scarf: semi-silk
Texture: Silky Sheen, Smooth, artfully Crafted.
Dimension: 70x70cms
IMPORTANT!
¡¡WE PRINT ON DEMAND ONLY!!
Please, read RETURNS & EXCHANGES POLICY before making a purchase.
It will take 15 days minimum for the manufacture of this scarf. Gifinas is a sustainable brand and our products need their production time.
If you live outside of Spain and you are interested in purchasing our scarves,
please send us an email to: [email protected]