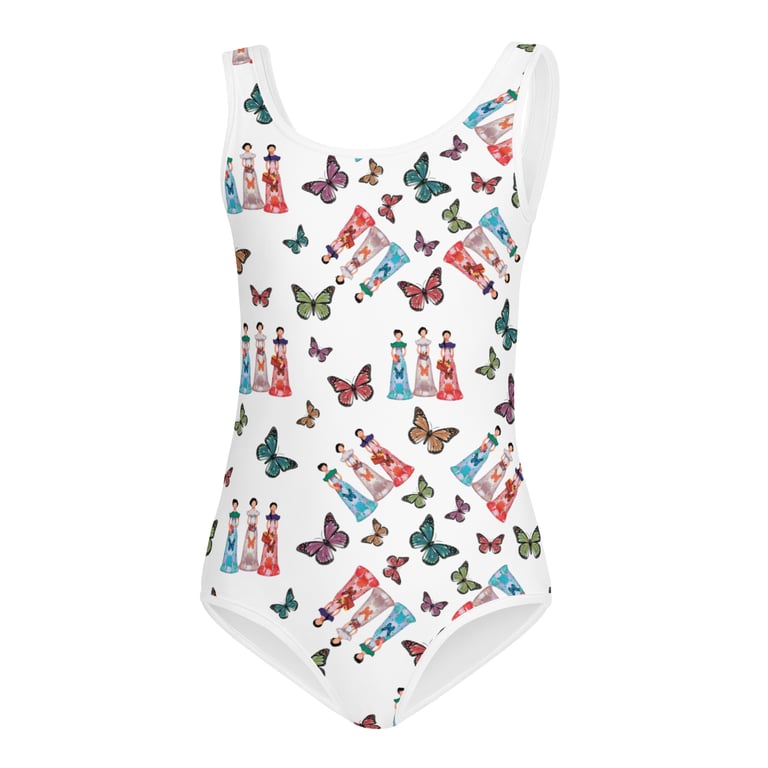 Gifina Ojo de Agua Swimsuit
Our little girls' swimwear, part of the Ojo de Agua collection, has been designed in honor of three courageous women, the Mirabal Sisters. Inspired by their bravery and resilience, this collection pays tribute to their legacy. The Mirabal Sisters, also known as the "Butterflies," were political activists in the Dominican Republic during the mid-20th century. They fought fearlessly against a repressive regime and became symbols of resistance and women's rights. Our swimsuit collection embodies their spirit, encouraging young girls to embrace their own strength and fearlessly dive into new adventures. Discover the Ojo de Agua collection and let your little ones carry the spirit of the Mirabal Sisters as they enjoy their time in the water.
This girls' swimsuit has it all - comfortable fit, elastic fabric, and a deep-colored print that won't fade in the sun and water. The double-layered front, bias binding, and 38–40 UPF ensure that the kids can be their active selves, and the parents don't have to worry about any wardrobe malfunctions.
• 82% polyester, 18% spandex
• Fabric weight: 6.78 oz/yd² (230g/m²), weight may vary by 5%
• UPF 38–40
• Double-layered front
• Four-way stretch material stretches and recovers on the cross and lengthwise grains
• Bias binding in black or white
• Sewn with an overlock stitch
• Smooth and comfortable microfiber yarn
Please note that contact with rough surfaces and velcro fasteners should be avoided since they can pull out the white fibers in the fabric, damaging the swimsuit's appearance.
IMPORTANT!
Sale Items may not be returned or exchanged unless they are faulty.
Please, read RETURNS & EXCHANGES POLICY before making a purchase.
If you are not sure about your size, please send us an email to: [email protected]
It will take 20 days minimum8 for the manufacture of the swimsuit if you live in USA, in case you stay in Spain, it will take one month; we are a sustainable brand; each one of our product is cut and produced in an artisanal way so their need a time for their manufacturation. Gifinas, is a fashion brand committed to responsible consumption .